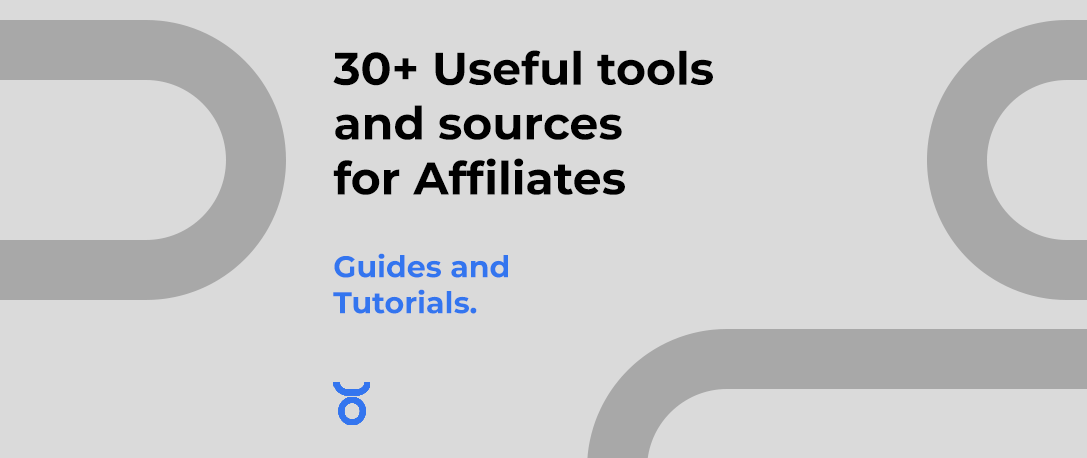 30+ Useful tools and sources for Affiliates [2023 Guide]
22 December 2022 Guides and Tutorials
Today, attracting traffic alone is no longer sufficient to be a successful affiliate.
You must manage a variety of duties. Utilizing keywords, coming up with successful creatives and offers, researching niche advertising, optimizing campaigns across many channels, and producing landing pages, blogs, and other content pieces. Additionally, it's important to follow current trends, keep an eye on what your competitors are doing, and find fresh sources for your offers. Extra tools are used in this work.
Furthermore, it's critical to realize that maintaining contact with other experts and having access to possible partners will help you quickly adopt new promotion techniques, find new affiliate programs and offers, and uncover new offerings.
Traffic Sources Tools
If you want to create, manage, and analyze the campaigns in one place here are two services that help you to save your time while working with ads!
With AdEspresso you can create, manage, and analyze the advertising campaigns on Facebook, Instagram, and Google ads. Besides, you will be allowed to approve the campaign with clients, download the automated PDF reporting, and improve your skills through the training located inside AdEspresso University.
Pricing: from $49 per month
14-Day Free Trial
WordStream simplifies the process of ad creation and managing the campaign. Gets guidance with improvements for faster optimization. And allows advertisers the editing of their campaigns using personalized recommendations based on users' account data.
Pricing: from $49 per month
7-Day Free Trial
Campaign Optimization
As you launch each new campaign as a marketer, you must track its progress daily. To save time, use a special service that will allow you to automatically activate or block ads, and adjust budgets and bids.
TheOptimizer is campaign management and automatic optimization software for native and pop, redirect, push traffic that has 3 versions:
Pricing: from $99 per month
15-Day Free Trial
Pricing: from $199 per month
15-Day Free Trial
Pricing: from $104 per month
15-Day Free Trial
Spy Tools
If you want to monitor creatives in different verticals, compare the performance of other networks, and find references for your campaigns those tools will help you!
SpyTool is a simple and convenient service that helps to find social media ads and monitor different creatives by using geo, placements, and key query search.
Pricing: Free
Using SpyPush you can easily monitor push, native, popunder, and adult advertising using filters by keyword, advertiser, language, country, operating system, tracker, and banner size. It has different types of subscriptions: SpyPush, SpyAdult, SpyNative, SpyPop, or SpuCombo (includes all types).
Pricing: from $49 per month
2-Day Free Trial
Tracking Tools
Why do you need tracking tools? To regularly track statistics, understand how effective your campaign is, and not waste money on advertising. Don't forget to look at the selection below and add one of them to a list of your compulsory tools!
With Voluum you can track, analyze and optimize your affiliate campaigns, and get rich analytics from all possible sources. It helps to control traffic distribution, improve campaign performance, and conduct A / B tests.
Pricing: from $69 per month
14-Day Free access to the platform preview
BeMob allows you to track ad campaigns, manage traffic data, analyze reports, optimize your campaign's performance, and collaborate with your team and affiliates through Workspaces.
Pricing: from $0
Hosting
Hosting is needed to store the site on a constantly available web server. It includes all the necessary components for the reliable operation of your site:
— сustomized software;
— uninterrupted power supply;
— reliable internet channel;
— professional support.
Сheck out these two services that are trusted by a large number of users around the world.
If you are looking for reliable and affordable hosting for your landing pages or WordPress sites, feel free to try Bluehost. It has been around since 2003 and now hosts more than 2,000,000 websites. Besides, Bluehost is one of the most popular, low-cost hosting options for new websites.
Pricing: from $4,95 per month
WPX is popular and secure web hosting with free built-in support that guarantees to respond in 30 seconds and has its knowledge base with useful articles. Also, WPX won all global speed-tested categories in independent 2021 testing.
Pricing: from $24,99 per month
2-Day Free Trial
VPN Services
Using VPN in affiliate marketing has become a common reality. Thus you can secure your data, use sites that are inaccessible for all regions, and check how your landing page or website is displayed in various global locations.
With NordVPN you can choose one from 5,000+ servers in different countries (60), add 6 devices at a time to one account, and be sure that your private data don't track, collect or share. NordVPN is a popular Internet security service provider in the market, serving more than 14 million users worldwide.
Pricing: from $3,29
CyberGhost VPN is a full-featured VPN for different devices. It provides access to 7400+ servers in 91 countries and comes with a 45-day money-back guarantee to give you enough time to test the apps and see if they work for you.
Pricing: from €1,83 per month
Free trial version
Landing Page & Design Tools
What to do if you need to make a landing page, but you are not a master of coding? It's simple, use these services, and you will be able to easily create a landing page, connect other services (CRM, email marketing and payment services, and others), as well as work with them on different devices. Choose your tool and start!
Tilda is a simple and easy-to-use landing constructor with the ability to create a website without programming. Among the advantages you will find:
- ready-made templates for different purposes and types of landing pages;
- automatic design optimization for different devices;
- integration with CRM, email marketing services e.t.c;
- connection of payment systems;
- availability of tools for search engine optimization.
Pricing: from $0
WordPress is one of the best platforms for creating websites, which is powered by 42% of sites on the Internet. It has built-in search engine optimization tools, Mailchimp, Google Analytics integration, ready-made blocks and design solutions, and connected payment systems. Moreover, you can work with WordPress on different devices: phone, tablet, or computer.
Pricing: from $0
Figma is a free, online UI tool where you can create, collaborate, prototype, and communicate with a team all in the same place. From creating banners to wireframing websites, and designing mobile app interfaces.
Pricing: from $0
Email Marketing
Email marketing is another one of the most effective tools for driving traffic. But to get the most out of it, you need a convenient service that will help you quickly compose letters using ready-made templates, segment the database, analyze the effectiveness of campaigns, and stand out from competitors by testing many other functions such as creating chatbots, SMS and Viber mailings. See the descriptions below and choose the best solution for your work!
Sendpulse has the largest number of functions and the best free plan among the popular mailing list services. Besides email, you will be able to send SMS, set up push notifications and auto-replies, create sales funnels on Instagram, WhatsApp, Facebook, and Telegram using chatbot builder. And automate sales and customer communication using free CRM.
Pricing: from $0
Unisender is a functional and easy-to-use service. Which allows creating chatbots, sending an email, SMS, or Viber messages.
Pricing: from $0
Keyword Research
Every time you promote your offer, it's important to make sure that it is relevant to the needs of your target audience. This is one of the key factors in both paid and organic promotion. Use these convenient services to find converting and working keywords. They will help you analyze the popularity of requests, navigate their rate and get more traffic.
Use Google Keyword Planner if you want to analyze the frequency of searches in your niche, find the most relevant keywords for your campaign, understand the estimated bids for each of them, and improve the effectiveness of your campaigns.
Pricing: free
Keyword Surfer is a free browser extension. It shows such data as request frequency, synonyms, number of entries, and monthly traffic.
Pricing: free
SEO Tools
To get more organic traffic to your landing page, it is important to understand which keywords are more effective in your niche, conduct regular SEO audits of your landing pages and content. And of course, don't lose sight of your competitors! The following services will help you do this effectively!
Ahrefs is one of the most frequently recommended services on the Internet, and that's justified. It has a lot of functions that you need while working with your site, analyzing competitors, and finding the way to approve your strategy. From site auditing to finding the best performing content in your niche, and analyzing the organic search traffic and backlink profile of your competitors or any other URL.
Pricing: from $99 per month
7-Day Trial from $7 per month
SEMRush is another popular service among SEO specialists. It also helps to research the best keywords to bring traffic, compare your website to the competitors, analyze your site and find the opportunities to fortify your backlink profile.
Pricing: from $119.95 per month
Free trial version
Affiliate Marketing Forums and listings
Today, forums are an integral part of every affiliate. Firstly, you can communicate with other affiliates: share your experience or get quick and direct answers from professionals. Secondly, through regular communication, you can catch insights and improve your strategy or get new methods to increase your commissions.
So, If you haven't yet joined the top forums, see the selection below and dive into the affiliate marketing community to keep one's finger on the pulse!
Forums you should join:
— STM
— affLIFT
Listings help to find affiliate programs for cooperation in different verticals. Use convenient filters, read the reviews, monitor the best programs and offers.
Keep the top 3 resources from us!
— Affpaing
Also, if you want to sell or buy traffic, mymediaads is another handy and practical source to use.
Payment system
Looking for a way to quickly transfer money, low fees, and payouts? Check out the list of convenient payment systems, choose the most suitable one for you, and use it for your work or work with networks!
— Wire
— Paypal
— Paxum
— Payoneer
As you can see, there are many services and tools that can simplify and improve your work. In this guide we have collected the top ones. Hope you will find the best for you!